For you, and with you,
we are co-creating the FUTURE.
Anna's Trees and Innovations is not just a business; it is a commitment to contribute to nation-building—no matter how small or impossible it may seem—by rooting and nurturing the leaders and entrepreneurs of tomorrow.
Inspired by the four elements and directions, our 4 core initiatives are:
Integrity Institute

El Rio Bamboo

InnoveGREEN Lab Products & Services, and

One Mandala Creatives & Communications

ONE Home, FOUR Initiatives
The SEED
INTEGRITY INSTITUTE is the first seed that ignited the dream for Anna's Trees & Innovations. It is seeding from a collective consciousness toward a transformative pedagogy and life-long learning. It's a bold step, a strong voice, a commitment for a more resilient and high-integrity tomorrow–our shared future.
The ROOTS
EL RIO BAMBOO is planned to be a world-class and off-grid sustainable bamboo plantation, resort-observatory, and low-density villas bordering the clean and beautiful Diaman River in Aurora, Philippines.
El Rio Bamboo is the "root" that will keep us together; allowing us to be fully grounded not just in the soil of our ancestors and mother Gaia but also from the Source that which allow us to flourish in our mission.
Within Aurora province, we are planting indigenous trees for every project/milestone or beneficiary/scholar supported. The trees will be monitored and their details kept in a databank–to ensure that their nurturers are going to develop not just bond with them but also lifetime commitment.
On the policy side, we shall work hand-in-hand with government to ensure that all laws on tree-planting will be strongly implemented.
The TRUNK
One Mandala Creatives & Communications recognizes that any business endeavor—if we are to rebuild our nation from a culture of integrity—should always consider the society at large and that it should inspire and become a space for the co-creation and sharing of transformational, health-giving, inclusive, and artistic knowledge assets.
Without the trunks, the trees could not reach out and grow the fruits.
The FRUITS
InnoveGREEN Lab recognizes the urgency of moving the society toward more effective solutions and innovations in climate mitigation, adaptation, and resilience.
By ensuring resilience (including food and health security), our world is able to reap the fruits of united efforts of the collective while still nurturing the individual's journey toward greatness and completion.
We are visionaries and co-creators
All of us. We can make a difference.
If you believe in a high-integrity future, commit to a well-lived life, and wish to make a difference in the lives of others, JOIN us!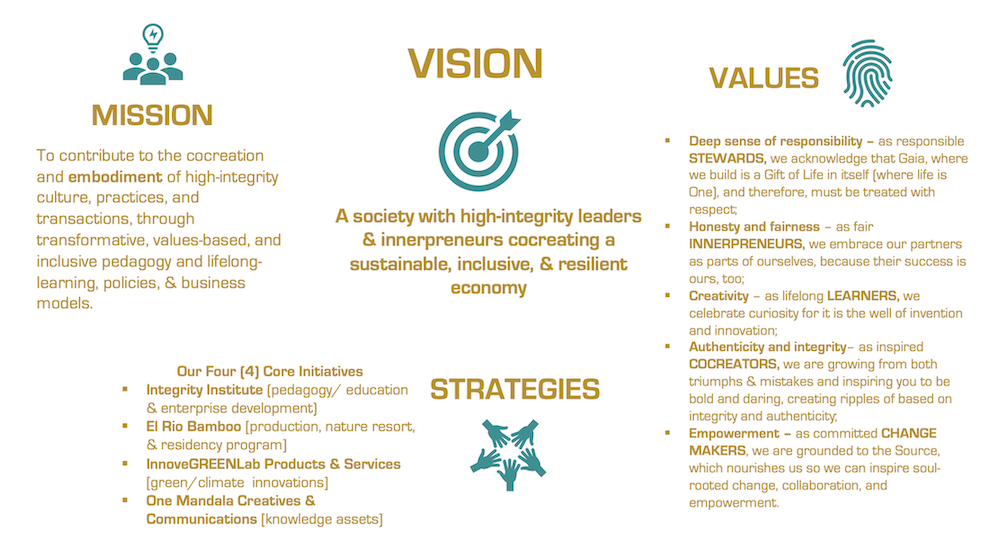 Awesome to see your smile. Here are ours.
We are flourishing together and we like to listen to your stories.
Meet the gang soon? Or better yet, join us as we plant the first bamboos in Aurora. We need to ditch the suits and ties but we assure you, the views of the stars at night, the nature vibe, and the cool crowd and surf in Baler (among other things) will make you want to stay…longer.
P.s. The position for the furry-Team Cuddler (name: Tomato) is currently open. In the meantime, enjoy this bouncing ball (hopefully a splitting image of the future Tomato!)
Here, in El Rio Bamboo's site, I spent many idyllic summers as a child. The picnics were as basic as one can have them. There was no electricity then (even until now) so we cooked our rice using the water of coconuts. We were not born with a silver platter, yet, my childhood is so rich with meaning, laughters, and imbued with the right dose of sadness and challenges, so that we could grow with inner strength, curiosity, compassion, and respect. Life is definitely not perfect; yet, we found perfection in the small details, in the knowing that there is hope, there is love, and there is the constant rhythm of life. - Anna Velas-Suarin
We are all eternal beings. And here on Earth, we are brought to life by our mothers.

We fulfill our destiny; we travel on. Always, there is a mother's love (in its different expressions and forms). We honor all mothers, Mommy Flor (our founder's Mom), and all our ancestors; praying for their blessings and guidance, so that we can always find meaning in the directions of the winds, the generosity of the soil, and the flow of rivers.
___
To know more about Anna, please go here or visit her personal website.
___
Our website is still under development so our curated finds & co-creations through The Workshop is not yet available. Please come back soon!
[Gratitude Shoutout: Except for the team's pictures and the El Rio Bamboo site's image on the left, the beautiful images on this page are by Matze Bob, Kumiko Shimizu, Gabriel Jimenez, Bady Abbas, Annie Spratt, Ranurte, Arya Praditya, Randy Fath, Niels Weiss, Cristian Castillo, and Zhong Hong at Unsplash]